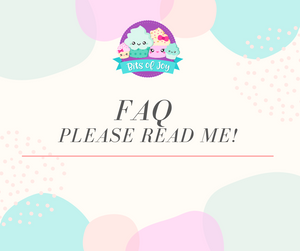 What are your ornaments made of? 
Polymer clay, findings, glaze, and ribbon! 
How long does it take you to make an ornament?
It depends! Typically 45 minutes for simpler designs to over 2 hours for more complex pieces!
Why do you start making ornaments in July each year? 

After my first few years of ornament making, I realized that there is just not enough time in November to make ornaments in time for December! Also, every year my customer base grows. Typically, if a customer orders one, they come back consistently for more years! I need to start early to accommodate more orders and to not get overwhelmed during the holiday season. I also have been working a full time day job since early 2022, so need that extra time more than ever now! 
When is the best time to order?

I take ornament orders year-round, so anytime! Typically, I start advertising them in July, however you can usually safely order up until early November for Christmas delivery! If you want a shorter wait, order in the summer! Wait times can get as high as 4-5 weeks during my busy season. Make sure to keep an eye on my deadline announcements.
I have an ornament idea, but don't see a listing for it. What do I do? 

I make a ton of designs so it's impossible to list everything! You may want to check out my Custom Ornament listing
here
for more details. Please contact me first before ordering a custom piece.
I have NO idea what to get this year. Can you help? 
Yes, I can help you brainstorm! Tell me more about you and your family and your interests and I'll help devise some ideas. You can also visit my past years' albums for some inspiration: 
2019 ornaments
,
2018 ornaments
,
2017 and earlier ornaments
.
I have already placed my order, but want to make a change. Is it too late? 

Please contact me as soon as possible if you realized you spelled something wrong or made a mistake! If I have already started on your ornament, I may not be able to make changes. If you need to make a change, you may incur an additional fee (including changing designs, adding on a pet, or extra object, etc.) Keep in mind that any changes may delay your ornament production.
What if I don't like my ornament? 

I try my best to make my customers happy. However, please consider that these are all handmade and take a lot of time. Sales are final and I do not offer refunds.
 Prior to baking and final approval if there is a component of your custom creation that requires a significant edit we can discuss potential remedies and the associated costs.
All customers will receive a photo preview of their CUSTOM ornaments via email or Facebook messenger. Please approve the design at your earliest convenience. Once I get your approval, I will bake and finish up your piece and prepare it for shipping. 
I love my ornament and want another one! Can I order more?

Yes, of course! Please reach out to me for a one time free shipping combination code IF I have not already shipped out your current order. Please keep in mind that your order may be delayed if you are adding on more. I may not be able to start right away if I have other ornaments I'm working on, or if I don't have all the right colors in stock to start your piece. You will not get pushed to the end of the line, but you may have to wait another week or so for me to fit in your other piece. 
My ornament arrived slightly damaged/or is completely broken. My dog broke my ornament! My kids tossed it around and it broke! What do I do? Can you remake it for free? 

I'm so sorry! Please send me a photo via
Facebook
 or
email me
 along with a brief description of what happened. I'll let you know if the ornament is fixable. Please keep in mind that ornaments are securely packaged, backed with cardboard, bubble wrapped at least once, and are packed with care and packing peanuts! I am not responsible for what happens to your package once it leaves my hands. For that reason, I offer insurance
here
. Please keep in mind that insurance ONLY covers TRANSIT, it does not cover what happens after you have already opened your ornament and have had it in your home.
Due to how much time is invested into each ornament, I am unable to remake ornaments for free. I take the utmost care to ensure your ornaments are durable and will last for years to come (This also includes embedding pieces with wire and headpins to keep them sturdy and secure so they don't fall apart) Situations will be discussed on a case by case basis. 
I just received a shipping confirmation, but my address is wrong! 

I ship to the address on file. If you notice a discrepancy and if it's still in my mailbox, I'll retrieve the package and void your label and reprint. If it has already left my home, the customer is responsible for checking their email and tracking information and contacting USPS to reroute it. 
If an address is incorrect or a package is returned to me as undeliverable, I will get in touch with you and will send you a new shipping invoice. I will not ship out your ornament again until shipping is paid for. 
If you have any other questions, please reach out to me! 
I need my ornament by a specific date. Can you get it to me in time? 

My turn around time fluctuates, so if you NEED it by a certain date, please reach out to me before ordering. I pride myself in meeting agreed upon deadlines and will need to evaluate the orders currently in my queue as well as the complexity of your order. If you order past my stated holiday deadline, you may not receive it before Christmas andI will communicate with you on the process, as well as provide an expected turn around time.
I want to order an ornament and have it be a surprise! Can you ship to a friend and withhold a preview since they are fans of your page? 

Yes, just let me know! I'll send YOU a personal preview and will wait until your recipient gets it before sharing it on my page with everyone else.
Oops. I forgot my child's First Christmas ornament. Things got busy! Can you backdate ornaments?
I understand! And yes, I can make ornaments for past years. No worries. It happens all the time! You're still a great parent! 
Do you offer rush fees on ornaments? I don't feel like waiting a month. 
Sorry. Due to the workload I receive for ornaments, I keep everything fair. Orders will be worked on as they are received. 
I have more family members in my family than you have listed. How do I order?
Please contact me for a custom listing.