Testimonials
Kathy becomes more than just another business, she becomes a friend. Always going the extra mile, above and beyond with custom pieces and excellent customer service to boot! Here's to many more years and custom orders ♡♡

Collette K.
I don't even know where to begin my review. I've been buying Kathy's amazing creations for at least 6 years now. Every single piece I've purchased from Kathy has been phenomenal. I'm so grateful her wonderful creations hang on my Christmas tree each year. I love wearing the earrings I've collected over the years. The magnets on the fridge bring a smile to my face each time I see them. I always look forward to her posts to see what she has created next!

Jess C.
I have been ordering from Kathy for several years and she has exceeded my expectations every single time. I have ordered many items for myself and many others for gifts and every piece has been well received. Kathy is incredibly talented and such a pleasure to work with. Her pieces are high-quality, very detailed, and made with love. I highly recommend her.

Rachel E.
I have been a customer for several years and I am always surprised with what Kathy thinks up next. The detail is incredible and the pictures do not do the pieces justice! I've gotten numerous compliments from friends, family and even strangers wondering where I got such a unique item. My husband is used to seeing the little envelopes in the mailbox, he now just says "charms are here!" I love Bits Of Joy and that's truly what they are as everyone that sees one can't help but smile!

Julie A.
Always willing to customize whatever I ask for or imagine and is so quick and nice. Details are amazing! I will have an ornament made every year for as many as I can!

Ashley F.
We love love love her ornaments!! She amazes us every year! We are always impressed with her ability to personalize and make them resemble us! Our favorite ornaments!!

Erin P.
Kathy has made so much cute stuff for me! She is absolutely amazing, and talented!

Jessica D.
THE BEST customer service, most friendly, and creative person I have ever enjoyed ordering from. She is so talented and makes the most fun items ever! Our Christmas ornaments will always come from Bits of Joy.

Maxine G.
If I could leave 10 stars I would. Kathy is AMAZING. From her Christmas ornaments to earrings to business card holders. I'm thankful to have her stunning artwork in my house!

Melissa R.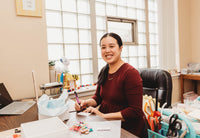 What is Bits of Joy?
-Est. 2011 -Handmade polymer clay products
-Known for ornaments, earrings, and kawaii art

SHOP NOW