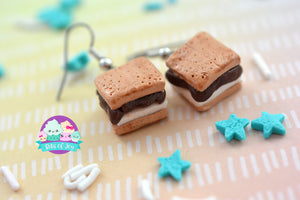 Ooey gooey marshmallow, classic chocolate, and graham crackers (I like the cinnamon or honey ones) If these don't bring back childhood summer memories, I don't know what will! 

These handformed "graham" crackers are delicately textured and shaded to look like the real thing! Chocolate oozes gently down the marshmallow! Wear to your next cookout or summer outing! 

Measures about 1/2" big. 

Hypoallerenic surgical steel fish hooks.