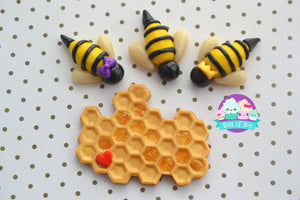 If you love individual magnets to represent your family, this is perfect for you! 
Honeycomb measures about 2.5" long by 1.5" tall. Designs will vary since no two honeycombs are alike.
Bees measure about 1.5" big. 
If you'd like to add a banner, they are $5 extra. I'd recommend getting a last name and year, Our Family, or Our Hive! 
Prefer an all in one magnet? Check out my other listing! 
https://shopbitsofjoy.com/collections/spring/products/honeycomb-family-bee-magnet?variant=32652237176964
Please contact me if you need more bees than offered.