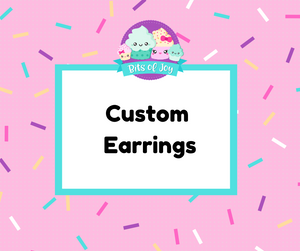 If you'd like a pair of earrings and don't see what you're looking for,
please get in touch with me FIRST.


I've literally made hundreds of earrings so it's impossible to get them all listed here! If you are requesting something I've made before, I'll definitely reply back to you with sample photos if I have them! 


You can send me a message on my business page, send an email  or fill out my contact form.

Once we check in, I'll let you know what tier to purchase and you can come back here and checkout! 
Please note that prices will fluctuate based on your requests! All earrings are made with hypoallergenic surgical steel posts/dangles!
Limited upgrades of different metals available on request. Additional tiers may be added.