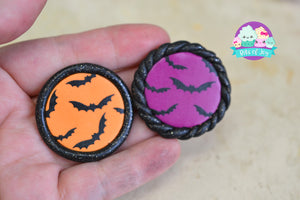 I love the simplicity of these Fall & Halloween inspired bat badge reels! 
Pick your favorite base color and rope style! Available in lime green, orange, yellow, purple, and glow in the dark (please note that this is an off white color)
These feature a fabulous bat design! Patterns will vary. These will all be lined with a glitter black trim. 
These are available in alligator clip style or slide on clips (perfect for belts!) These reels are black and feature a 23" retractable cord and loop for your ID. If you choose the alligator clip style, there is a 360 degree swivel back feature! 
Clay designs are permanently glued onto the bases. They will be about 1.25" in diameter. 
Please keep in mind that these are pieces of art, not a toy! Keep out of reach of children and take caution and use sense when wearing them! If you're an underwater scuba diver, it may be best to take your badge off! I am not responsible for damages.